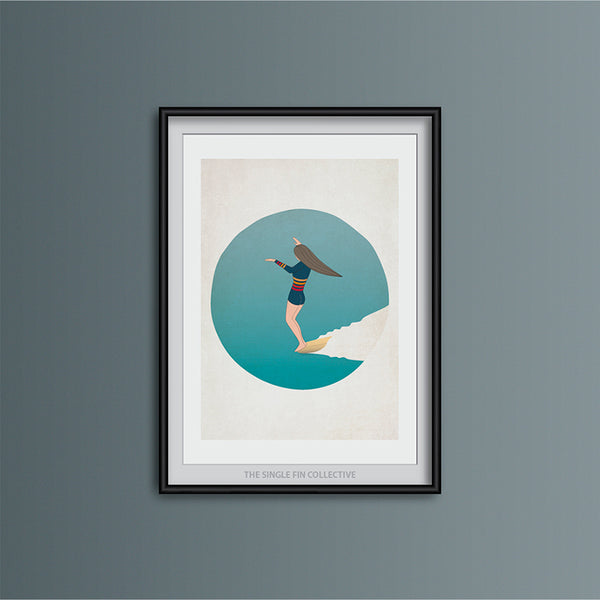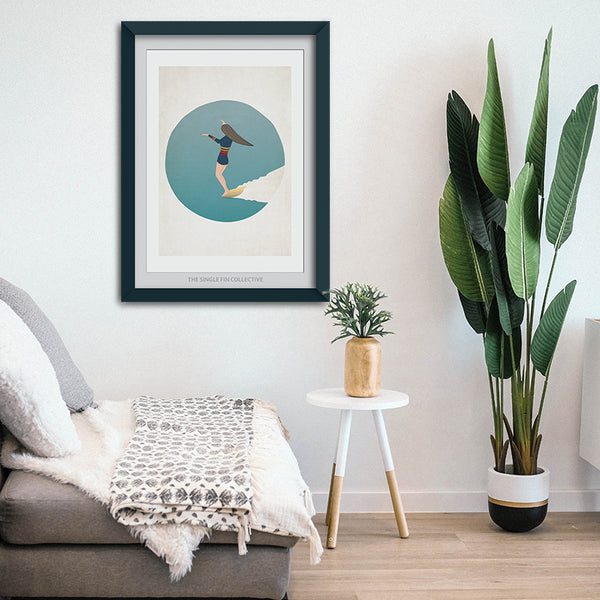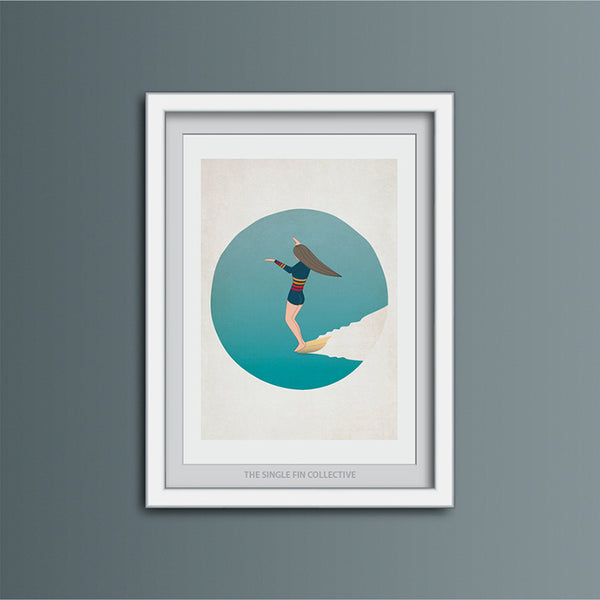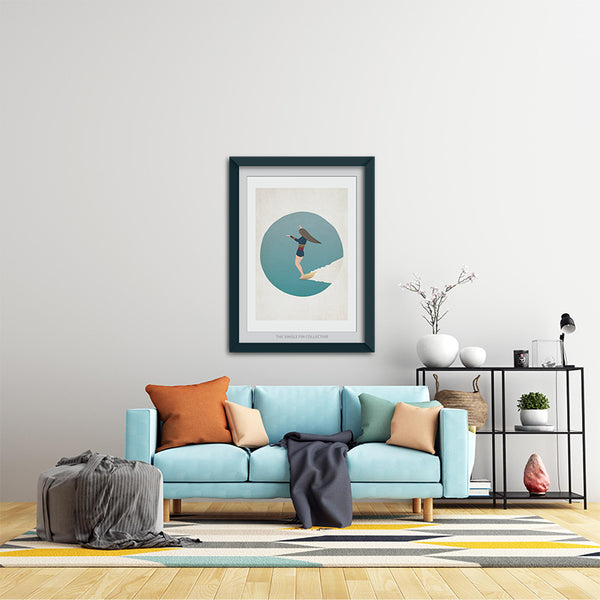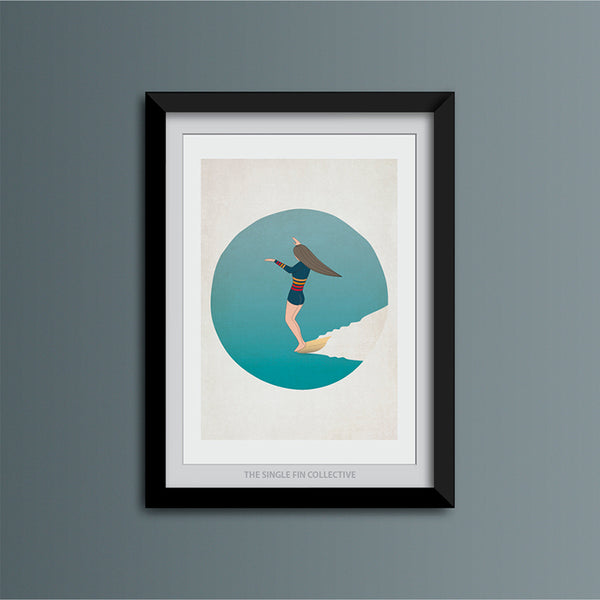 This colourful print, 'Ladyslider', shows a surfer girl gracefully getting some time on the nose of her longboard, one of the most recognisable skills associated with longboarding.
Digitally designed, this is a high quality giclée art print, which means it is produced using pigment based inks and archival, cotton rag paper. Prints of this type will typically last for at least 25 years. The paper is thick, matte and slightly textured with a 300gsm weight and a small, white border around the image meaning it can be framed without a mount if you wish. Each print will be hand signed and dated on the back by Sam, the creator. 
Please note that the colour of the print may vary slightly depending on your monitor settings and neither the frame nor mount are included in the sale. The print size shown in the photos is for illustration purposes only, please refer to the sizing options given for the actual size of the prints currently available.
For more information on the sizing, paper quality and other details please see our FAQs section. 
Paper Sizes
What are 'A' paper sizes?
The A series of paper sizes is an international standard, used widely in the UK, Europe and many other countries internationally.
The dimensions for each size can be found in the table below.
For other queries relating to print dimensions (for example prints in non-A sizes), please see our FAQ page.
| | | |
| --- | --- | --- |
| Size | Metric | Imperial/US |
| A0 | 841 x 1189 mm | 33.1 x 46.8 in |
| A1 | 594 x 841 mm | 23.4 x 33.1 in |
| A2 | 420 x 594 mm | 16.5 x 23.4 in |
| A3 | 297 x 420 mm | 11.7 x 16.5 in |
| A4 | 210 x 297 mm | 8.3 x 11.7 in |
| A5 | 148 x 210 mm | 5.8 x 8.3 in |
| A6 | 105 x 148 mm | 4.1 x 5.8 in |
Delivery rates for giclée art prints
Delivery is calculated at the checkout based on the range of items in your basket and your address, but as a general guide you would find the following rates based on 1 print in your basket:
| | | |
| --- | --- | --- |
| Region | Service |  Charge |
| UK (inc Channel Islands) | 2nd class signed for | FREE |
| UK (inc Channel Islands) | 1st class signed for | £1.10 |
| UK (inc Channel Islands) | Tracked 48  | £3.00 |
| UK (inc Channel Islands) | Tracked 24  | £4.00 |
| UK (inc Channel Islands) | Special delivery by 1pm | £6.35 |
| Europe (EU) | Tracked and signed for | £9.95 |
| Australia, Canada, Japan & New Zealand | Tracked and signed for | £12.95 |
| USA | Tracked and signed for | £14.95 |
Any international orders of giclée art prints over £100 automatically qualify for free international shipping.
For final confirmation of your shipping rates please head to the checkout and enter your address so they can be calculated accurately.
Framing tips
Whilst we don't offer a framing service we can give some good tips when it comes to framing your new prints:
Buying from the high street
In the UK "A" paper sizes are a standard size, see this page on paper sizes for the exact dimensions. You should be able to find standard frames on the high street for A paper sizes, although you may be restricted to simple white or black frames and they may not be the best quality or designed to last long-term.
Supporting local framers
We would always recommend talking to a local framer and supporting a local small business. The framers we know are professionals who can advise on how thick you might want your frame, whether you need a mount (or matt for our customers outside of the UK) and how thick this should be to complement the print and frame. The mount and frame can usually be customised in terms of colours too and of course you could go with a natural wood colour of which there are lots of options. If you've seen something you like, for example a frame on one of our web pages, why not screenshot the image and send to your framer to replicate. 
We recommend The Banana Shed Framing Company in Penryn, Cornwall if you're lucky enough to live local to us. 
Lastly...
Think about the size of the space you wish to fill. If it's a large space and you've bought a smaller print you can fill more space with a wide mount and a chunky frame. If it's a small space, no mount and a thin frame may suit you better. Bear in mind the weight of the glass too, your framer may insist on a chunkier frame if it's a large print which needs more support.
It's also worth noting all our prints include a small white border with the design inset inside this, so you can choose not to include a mount as the print will look good in a frame without one - this can also make framing a bit cheaper. We personally think a mount adds a bit more style though.
If you have bought a frame and the print needs trimming down slightly to fit in, make sure you measure very carefully, draw on guides of where to cut with a pencil and take it slow. You can't add paper back on if you cut too much off!
Our prints are delicate so do make sure you handle them carefully. Giclée prints are printed with a very fine spray of ink over the paper surface, so throughout the framing process do not touch the surface of the print at all. You could easily scratch or scuff the design.